Bubble Football FAQs
Got a question about bubble football?
The answer is probably below so please check here first before contacting us.
Do we have to play football?
No! British Bulldog is just as popular, and we've got lots of other ways to get you running into each other. We love doing suicide runs at each other in the office to solve disputes, and we'd love to hear from you if you've got some other crazy way of using our bubbles!
What is the smallest group size?
Our minimum prices are for a group of 10 people. You can play with just 8, but less than that isn't so much fun.
What is the biggest group size?
For a one hour booking the maximum number of players is 20. This is because any more that 20 and you won't each get enough time on the pitch.
What if my group is bigger than 20?
You can book a 2-hour session for a reduced price. Simply book two hours and the discount will be automatically applied.
What equipment is included in a nerf party?
Typically the equipment included will be inflatable bunkers, barricades, guns, goggles, ammunition, war paint.
What should I wear?
The same kit you would wear for a hard session of 5-a-side football or circuit training. Shorts, a t-shirt and trainers are ideal (no studs or astro boots please). It gets hot in the bubbles so we advise bringing a change of clothes for after the game.
What should I bring?
Bring a bottle of water as bubble football is thirsty work. A change of clothes for after the game… and a good sense of humour!
Why do you take a deposit?
Your deposit goes towards pitch time and staff costs involved in the booking process. Because of this we are unable to refund it in the case of a cancellation.
Do you do bubble football stag or hen parties?
Absolutely! We love stag and hen groups – they're great fun! We recommend starting your party with bubble football as our venues are ideally placed for getting drinks, food, and fun nearby afterward. Please do not drink before playing bubble football though – if we believe you are unfit to play we will not allow you to take part and no refund will be offered.
Can I book for more than one hour?
Yes! We recommend groups over 20 players make a 2-hour booking for a reduced price. Simply book 2 hours and the discount will be automatically applied.

How many Bubbles do you provide?
With all groups we provide 10 bubbles and rely on 5 a side games with teams rotating. We found this to be the most enjoyable way of playing the sport as it does get tiring and people do enjoy a well earnt rest every now and then along with being able to watch their mates get thrown around!
What if I don't know exactly how many people are going to play?
That's fine. Simply make the booking for the approximate number you expect. Please just change the number online before making your final payment. There will be a link to change your booking in the confirmation emails.
What ages can play?
We accept players 10 years and older. If you're looking for activities for groups younger than this than please visit our partner company www.bubblefootball.co.uk and enquire there. They will be happy to help!

PLEASE NOTE THAT EVERY PLAYER UNDER 18 YEARS WILL NEED A SIGNED PARENTAL CONSENT FORM IN ORDER TO PLAY. ONE RESPONSIBLE ADULT MUST ALSO BE PRESENT FOR THE ENTIRE SESSION.
I'm pregnant, can I play?
Bubble football is a very physical activity with sudden, unpredictable impacts. For this reason, if you are pregnant we cannot allow you to play.
Do you hire out your equipment?
The guys at www.bubblefootball.co.uk will be happy to help for any special request events such as this.
Can you come to us?
Yes we can! Send us an email or visit our partner company www.bubblefootball.co.uk and send an enquiry through there! The prices for events where we come to you are also listed on this site. 
We only play on 3g astro turf pitches or sports halls.
Is bubble football safe?
It is a contact sport and so there is, of course, a risk of injury, just as there would be in a traditional football game. However as long as you follow our safety instructions, avoid reckless tackles and have no existing medical conditions that could be agitated by contact, injuries are no more likely than in a game of 5-a-side football.  Watch our video on the homepage of Bubble Football. 
When do I have to pay the full booking amount?
We will send you an email 10 days before your booking to ask for the final payment online. You can however pay the remaining balance of your event in cash on the day if you would prefer!
What's the address of the pitch?
All the venue details are on the Venues page of our site, including maps and full addresses.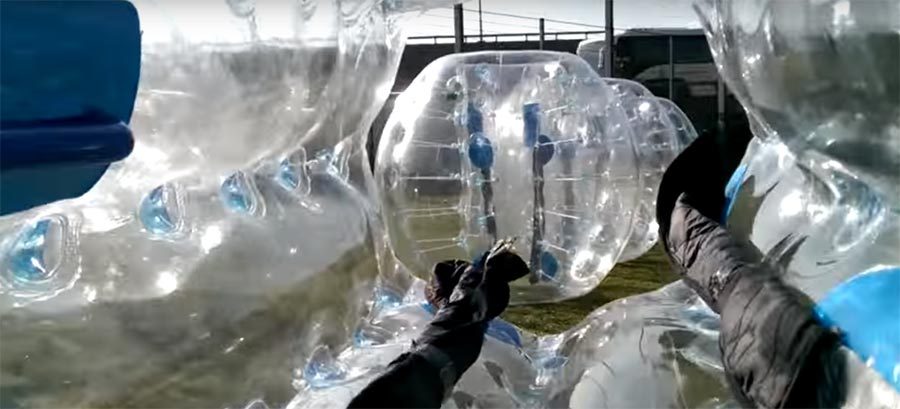 What it looks like to play bubble football