We love having Stag and Hen groups come to play bubble football so we want to make it really easy for you!
Get your group booked instantly online with just a £100 deposit and payment either on the run up to the event, or in cash on the day!
Go to our Book Online Now page and you'll have it sorted in just a couple of minutes.
We also have packages with other activity partners that can be booked together. All the details below…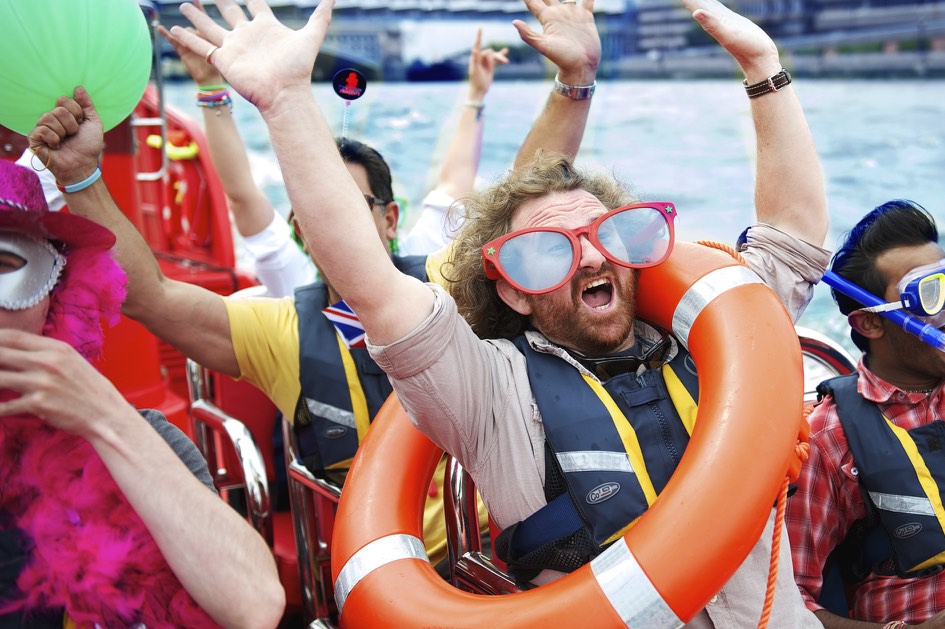 River Thames Speedboat Ride and Bubble Football Package
Speed down the River Thames from the London Eye with London Rib Voyages, then come and play with The London Bubble Football Company
The London Bubble Football Company has teamed up with London Rib Voyages to create the perfect 'Super Saturday'.
Step aboard a London Rib Voyage from the world famous London Eye for 50 minutes that's sure to kick-start any occasion…
With an expert skipper and an award-winning guide on hand to keep the banter flowing, London Rib Voyages will get you and your party dancing in the aisle on one of their super slick speedboats that have made them No.1 on TripAdvisor! Once past Tower Bridge it's all systems go as they 'fire up' and propel you down the Thames at 30 knots (35mph). With bespoke music pumping from the speakers, you'll be grinning from ear to ear knowing that this has the makings of the best celebration yet!
And that's just the beginning. Now the adrenaline is pumping, take a short walk to the nearby OXO Tower and check in for your next adventure – Bubble Football! We boast the only central London venue right by the South Bank. Get your game face on, don an inflatable zorb and prepare for impact! Side-splittingly funny and fast becoming a 'must-do' addition to any group activity, we'll round off your 'bash' with a 'bump'!
£725 for a group of up to 12 people
To book your stag, hen or other group experience, drop us an email at info@bubblefootball.co.uk
2020 Combat Tag Archery and Bubble Football Package
Combine a fast-paced 90 Minute 2020 Combat Archery experience with bouncing, belly-laughing 1-hour bubble football experience.
What's 2020 Combat Archery?
Also known as combat archery or tag archery, dodge ball meets the Hunger Games in this action-packed adrenaline sport. Our specially designed equipment allows you to shoot arrows at your friends safely, so you can get on with winning the day!
How does it work?
Two teams go head-to-head in an adrenaline-filled 1hr experience. After a brief training session, it's onto the field to test out your shooting and dodging skills under the guidance of one of our referees.

It's a dog eat dog tournament, and if you hit one of your opposition they're off. If you manage to catch an arrow the shooter is off. There's limited cover available, but if you hide away the opposition can take out your targets and win the game.

By the end of the tournament, we'll be able to declare a winning team, as well as the MVP. However, we guarantee everyone will leave with a smile on their face! If you have a question, please visit our Bubble Football FAQ section. 
£695 for a group of up to 15 people
To book your stag, hen or other group experience, drop us an email at info@bubblefootball.co.uk